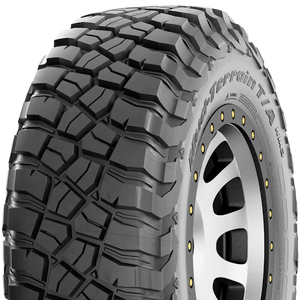 BFGoodrich Mud-Terrain KM3
Are you ready to test what you and your truck are made of?
You need a tire known for its extreme toughness and aggressive performance backed up by nameplate generations of off-roaders know and trust. That tire is the BFGoodrich Mud Terrain T/A KM3.
BFGoodrich Mud Terrain KM3 Features
The BFG KM3 delivers an off-road performance unlike any other mud-terrain out there.
Built with a rugged carcass and an aggressive tread pattern, the BFGoodrich Mud Terrain T/A KM3 puts down the serious off-road traction and tough durability you need when the going gets tough. Known around the globe as the leader in off-road performance, you'll take your rig to the next level when you upgrade to the BFG KM3.
When it comes to the KM2 vs the KM3, it shells out a 27% tougher sidewall thanks to BFGoodrich's CoreGard Max Technology.
So what does that mean for you?
All. Out. Toughness.
Thanks to this rugged sidewall design that resists tears and punctures, you can take on the harshest trail conditions without missing a beat. The KM3 is also built with a TractionArmor Sidewall Sculpture, fortifying it against sidewall splitting.
In short, when you roll on BFGoodrich KM3 tires, you're rocking some of the toughest tires ever made. Plus, with its aggressive tread pattern and Linear Flex Zone, which envelops and rolls over rocks and other solid objects for serious traction in aired-down driving conditions, rocks and boulders add to the fun instead of standing in your way.
Other performance features of the Mud Terrain T/A KM3 include:
The notched shoulder design and the mud-phobic bars in its shoulder grooves work in tandem to help self-clean for peak traction in mud, soil and sand.
Its Terrain Attack tread design

features massive tread blocks for incredible grip from any angle of attack.

Rugged durability and puncture resistance are provided by shoulder tread elements

.

BFG's cutting-edge Krawl–Tek Compound

lays down powerful traction on slick surfaces.
SHIPPING:

*10 Day Shipping and Delivery grace period from order date if tires in stock.
*FREE Shipping if Picked up from Mohave Valley. Pick-Up info to be provided after purchase. 
---